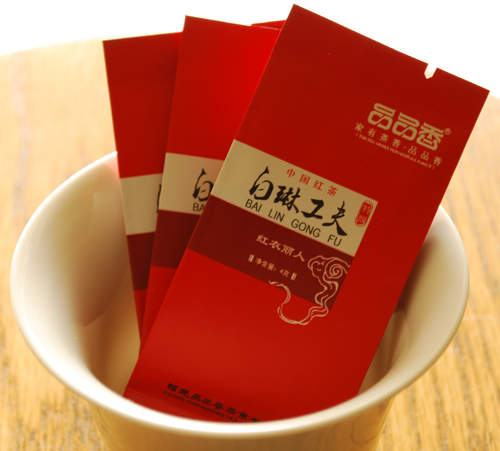 The good folks at Teavivre were very kind to offer me the chance to review some of their teas. Of course, that was at the same time things starting getting retarded in my life and I was about ready to set things on fire. Now that things have settled, I will review their samples promptly, carefully and lovingly.
Dry: Smells dark. A bit chocolatey. Slightly woodsy.
Brewing: Wabi Sabi Teapot, 1 packet (presumably 1.5-2ish oz?) per 8oz water, 185*F, 1m10s
Aroma: Chocolatey and a bit woodsy.
Flavor: An interestingly sweet and creamy black tea. Definitely a full bodied tea…
…and my cup is gone. Ahem. Haha! That was delicious! You know its a winner when you get so absorbed in the tea that you just keep sipping, peacefully enjoying it for what it is without any critical analysis at all. Creamy, smooth, sweet and delicious. It has kind of a chocolate/caramel sweetness to it. Rich and lovely. I can easily see this being an every day tea for me. And NO astringency! All love and no bite. Awesome.
Second steep was at 2min and it's still awesome. Less chocolate.  More caramel. The next time I brew this, I will start with a 2min steep instead of 1min. I was a little leery of the 2tsp to 8oz ratio but clearly there's a lot more oomph to this tea at 2min. I'll be sure to add a note to this post on the next go.
What: Bailin Gongfu Black Tea by Teavivre
Type: Black
Cost: $8.90/3.5oz ($2.55/oz)
Cost per Cup:
Resteeps: 2
Tea Score: 90 – It's delicious! This could move up. I have a few more sample packets to play with.
Cupboard Score: 88 – My current everyday black (Himalayan) is almost gone. This could definitely be a great replacement in my cupboard.