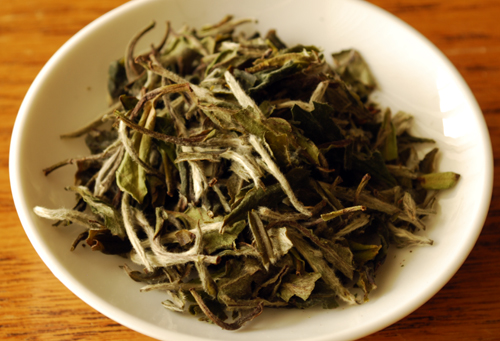 I was really hoping for some kickass weather this weekend. My productivity goes through the roof on a glorious summer day. The news kept talking about how it's gonna be so sunny and awesome and wonderful… and then all we got was some ridiculously blah overcast. Nothing demotivates quite like a serious overcast. It's like the weather gods didn't care enough to paint a nice sky or put together a brooding rain storm. They just slapped some shades of gray on a painfully blank canvas. Their laziness is contagious! Or maybe it's like someone sucked the life out of the sky and now its a pale vampire zombie, limping along lifelessly outside my window and making me want to play Wii all day. Terrible weekend for a BBQ. Pretty good weekend for tea though, giving me a good opportunity to review another of Teavivre's samples! Woohoo! Movin' right along…
Dry: Smells sweet, floral, a bit grassy. Very light. The leaves are so pretty!
Brewing: Wabi Sabi Teapot, 1 packet (presumably 3ish tsp?) per 8oz water, 190*F, 1m40s
Aroma: Buttery, floral, grassy, leaf-y.
Flavor: Definitely a feminine tea. Not like, little prissy girl feminine but more like warrior princess feminine. Not a two-handed sword wielding warrior princess though. More like… a bow and arrow wielding princess. Virtuous and pure of heart, she wears her long, blonde hair with flowers braided into it but can drive an arrow in your skull from far, far away with her magical bow and arrows, that just happen to be done up in soft, pink ribbons. Yeah. Just like that.
Big, strong flavor while still remaining soft and delicate. Grassy, floral, sweet and slightly vegetal. Just a little bit of soft buttery undertones. It's got an excellent texture too. Smooth and a bit velvety. It's a pleasant white tea.
Steeped for 2m30s on the second steep. Much sweeter on this go. I'm really digging this steep. Still grassy and floral. Less vegetal. More buttery. It has a warming sweetness to it – like a late spring or early summer day. It's a good dessert tea. I could see drinking this in the late afternoon or evening.
What: White Peony Tea (Bai MuDan) by Teavivre
Type: White
Cost: $9.20/3.5oz ($2.63/oz)
Cost per Cup:
Resteeps: 2
Tea Score: 83 – An excellent white with a very full bodied taste.
Cupboard Score: 71 – I'll have to think on this one… Hah. Yeah I've tried to expand on this and written like, three different things here so I'm just going to leave it as "I'll have to think." What I can say, is that if I had unlimited cabinet space and moneys, I would be on this no problem. Seeing as how I'm not uber wealthy yet, it requires a little more deliberation.