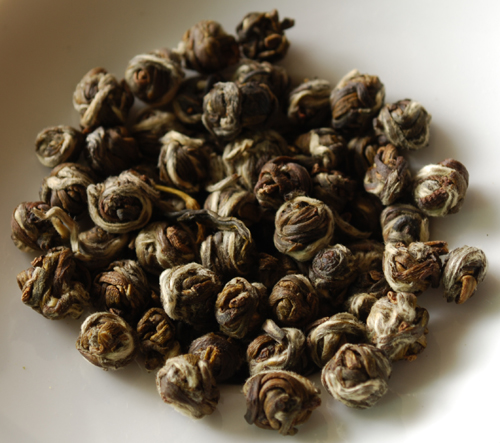 It's yet another gray and gloomy day in the land of Portlandia. Don't you all want to live here! Woohoo!
For whatever reason, the Muse of Cleaning is speaking to me today. I don't recall invoking her so she must just be here of her own volition, telling me there's too much clutter and my feng shui's all out of whack. Maybe my apartment was so bad that she felt an emergency visit was needed.
The Muse of Tea is always in my place though, and she's demanding that I open the next sampler from Teavivre. Who am I to argue? What better way to fix my feng shui, than with the help of tea… This one comes without a pretty mini sample package. My first challenge will be to open it without sending dozens of tiny jasmine dragon pearls all over my living room.
Dry: Woah… It smells freaking awesome in the bag. OMG. But it's not big enough for me to crawl in… WHYYYYY…
Seriously though, it smells amazing. It's like a jasmine scented love song turned up to 11. I am now way more excited about this tea than I was previously.
Brewing: Wabi Sabi Teapot, 2tsp per 8oz water, 176*F, 1m30s
Aroma: Wonderful. Jasmine jasmine jasmine. And not the overwhelming terrible jasmine perfume kind. The soft, sweet, delicate, natural floral kind you'd get from the real deal. It's almost worth it for the aroma alone. This is good stuff.
Flavor: Wow. I even cleared my palate again with a piece of ginger just to double check. I'm no professional tea taster by any means, but I can't imagine it being any better. My cup was gone before I could even write down notes and I'm already on the second cup.
This is ridiculously good.
It tastes like it smells – of wonderful, sweet and floral jasmine – but on top of a pleasant green tea foundation. There is an ever so slight astringency at the end, but it's just more of an astringent feeling on the tongue than a bitter flavor. The liquor is silky smooth all the way down. The overall flavor is soft, sweet and relaxing. So very relaxing.
…which is totally not what I was going for today but is altogether a very pleasant surprise. The Muse of Tea just took out the Muse of Cleaning. Kapow! Well played, Tea Muse.
I am feeling so very chill and centered now.
What: Jasmine "Dragon Pearls" Green Tea by Teavivre
Type: Green, Flavored
Cost: $14.90/3.5oz ($4.26/oz)
Cost per Cup:
Resteeps: 2
Tea Score: 95 – I leave room for moving up because I am no aficionado on jasmine dragon pearl teas.
Cupboard Score: 91 – This isn't a straight up 100 because I have never before had jasmine pearls as a constant in my cupboard. They were always something nice to try and if I was lucky, it would end up being a nice sweet treat of a tea – but never nice enough to reorder. This one is so sweetly and seductively delicious that I might need to stock it on a regular basis. The pacifying and relaxing qualities in the tea alone could be worth the purchase. I will wait to see how the rest of the sample pans out. I have a few more servings in there, thanks to the generous folks at Teavivre.
Btw, my process for this tea is:
Inhale the aroma from the dry leaves deeply, until you can't wait any longer for the tea.
Boil the water.
Continue to inhale aroma from dry leaves.
Transfer boiling water to another vessel to cool to 176*F.
Continue to inhale aroma from dry leaves.
Pre-warm the pot and continue to inhale aroma from dry leaves.
Measure out desired amount of pearls and steep for desired amount of time, while inhaling aroma from dry leaves.
Pour tea into a cup, and take both the cup and teapot full of wet leaves to desired drinking place.
Bury face into teapot full of the now awake pearls and inhale until lungs explode, marinading sinuses in delicious jasmine aroma until the tea is cool enough to drink and enjoy (which includes burying face in teacup when not actually drinking the tea).