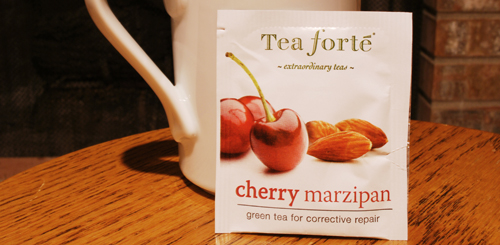 It's Tea Day! Or it must be since I received so much tea in the mail. Three different packages on the same day – two samples, one from Steepster Select. This is good because it was a terrible morning preceded by a terrible evening. If you ever misplace a significant amount of money, yet you're 99.99% sure it's in your home, you'll understand. There's this feeling that if only you looked a little longer, you'd find it. When you haven't found it four hours later you start to think that maybe the 00.01% chance is actually a likelihood and perhaps you left it elsewhere. Then you retrace your steps and rationalize that you remember bringing it in the house, therefore it is in the house and you should look some more.
If nothing else, my office and bedroom are much, much cleaner now.
Before I return to the fray, I'm breaking to try Tea Forte's Cherry Marzipan – part of their Skin-Smart sampler.
Dry: Mmm… smells like nyquil. I don't mean that in a gross way. I like nyquil. I like it because it usually means I'm going to sleep great. A little tart cherry. A little amaretto-y – which must be the almond.
Brewing: Standard Tea Bag, 1 bag/8oz, "almost boiling", 4min (since the first one was a bit weak at 3min)
Aroma: Smells great. Like cherry amaretto. Except if it was a baked good.
Flavor: It reminds me a little of Tea Forte's Amaretto cocktail tea from their other sampler. Less dynamic though. Cherries. Almonds. Blah. Better as it cools. The almond comes out more then. I want to like this because it smelled amazing. Yes, definitely better as it cools. When it was hot there was almost a… bitter texture to it. Much smoother and sweeter at lukewarm. Not bad.
I now resume my search – my quest for the missing stash of moolah!
What: Cherry Marzipan by Tea Forte
Type: Green Tea, Flavored
Cost: $6.00/16 bags ($0.38/bag)
Cost per Cup: $0.38
Resteeps: 1
Tea Score: 70 – Bumped this up to 70 on the second steep. Left the tea bag in for as long as I was drinking it. Much better.
Cupboard Score: 50 – Like its cucumber-mint bretheren, I would never buy it. If it was a gift, I'd drink it.