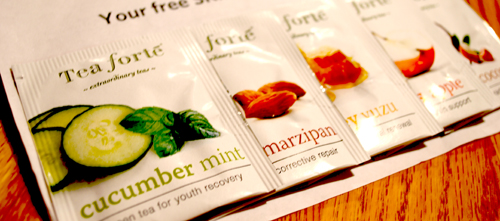 It's cookin' night! The house was wicked cold so instead of assuming a fetal position under a pile of blankets and going into hibernation, I decided to jet to the store and make soup. Usually warms things up. Really, nothing warms the house like baking but I'm at my gluten limit for the week. Gluten free cooking is NOT fun. So fragging goopy and sticky. In any case, while I'm in the kitchen I thought I might as well try Tea Forte's new Skin-Smart sampler. It shouldn't have so much caffeine that it'll keep me up until the morning. It's just a green tea bag after all…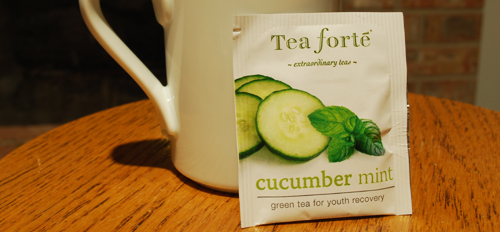 First, a tea bag? Really? It's a tea focused on "beauty from within" and talks about beauty this and that. Your tea bag is not beautiful. The little pouch holding the tea bag is nice. Well designed. Has that white, clean and beauty product theme to it. But you tear off the top and get a standard tea bag? Not even a pyramid bag? DEMERIT! Terrible. Really. I did your last sampler with the loose tea packs. Those were pretty. The loose tea was pretty. I've got a couple of your pyramid bags I stole from a friend, with the pyramid cardboard packaging. Pretty. Tea bag… not pretty.
Dry: Sweeeeeeeeeeet smelling. I think I smell blueberries and minty. But it's sweeeeeeeeeeeeeeeet. Wow.
Brewing: Standard Tea Bag, 1 bag/8oz, "almost boiling", 3min
Aroma: Now I get some cucumber. Less sweet. Slightly mint. Maybe some blueberries. Smells a little like those cucumber aloe creams. Pretty refreshing.
Flavor: Hmm. A light, clean tasting tea but nothing to get excited about. A little cucumber. A little mint. If I think real hard I might get blueberries. A little green tea. A whole lot of MEH. It gets better as it cools down. It's almost refreshing. I just want more though. I can't imagine that this is the epitome of cucumber mint teas. Maybe if I had steeped the hell out of it there would be more oomph. Where are the "sweet, succulent blueberries"?
I'd be interested in trying the loose version…
What: Cucumber Mint by Tea Forte
Type: Green Tea, Flavored (Wow. Surprised this is my first green review.)
Cost: $6.00/16 bags ($0.38/bag)
Cost per Cup: $0.38
Resteeps: 1
Tea Score: 55 – Not impressed. I want it to taste at least as good as it smells. It doesn't.
Cupboard Score: 50 – I would never buy it. If it was a gift, I'd drink it.