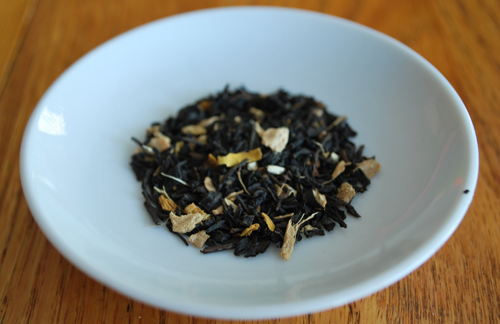 Three to pick from. Only one winner to be sampled first. I choose you, Ginger Peach!
Dry: Pretty damn floral. I don't know about you, tea. Smells sweet, flowery, and a little roasty.
Brewing: Wabi Sabi Teapot, 1tsp/6oz ratio, 205*, 5min
Aroma: Very sweet and peachy. Still flowery. A little spicy and warm from the ginger.
Flavor:  Peachy sweet and a bit tart. The ginger is more noticeable in the liquor than in the aroma. For the most part it's a strong, warming flavor. If you swish it around a bit you get some hotter, spicier notes. They don't linger though. Just a slight sizzle before it disperses. It's flowery, though not as heavy as it was just smelling the dry tea. It's just one of those flavors that tastes kinda… generic flowery – like flower scented candles or certain potpourris. Looking at their website, the blend has marigold petals in there. Oookay that makes sense.
I thought a 5 min steep time was going to make this bitter but it turned out good. Tasty, warming, satisfying.
What: Ginger Peach by The Tao of Tea
Type: Flavored Black Tea
Cost: $2.00/oz
Cost per Cup: tbd
Resteeps: 3
Tea Score: 77 – It's a good flavored tea. I can taste everything. Everything tastes pretty good. Blends well together.
Cupboard Score: 61 – I'm on the fence with this one. I like it. But I don't know how much I'd drink it on a regular basis. I'm a sucker for ginger but there's so many flowers. If I did have this in my cupboard as a permanent resident, it'd probably be competing with my straight blacks. Between the two I'd probably go for straight black over flavored. Ugh. Yeah I just don't know about this one. Will I enjoy the rest of the sample? Absolutely. Will I buy it? Proooooooooobably not.